Landlord Gas Safety Inspections
Gas Safety Inspection Requirements
It is a legal requirement that Landlords have a Gas Safety inspection carried out on their gas appliances within the rented property once a year.  This is done in order to show that they have been properly installed, serviced and are safe to be used.  When tenants vacate a property, landlords must ensure that gas appliances and fittings are safe before re-letting the property.
Gas Safe are happy to carry out both individual certificates for our landlords and agents as well as for multiple properties as well.
What do we do during a gas safety inspection?
In general terms we assess your installation and appliances for dangers, both present and potential.  This largely involves checking the gas pipework is not leaking, checking appliances have been installed and are operating safely, and checking flues and ventilation are adequate and are operating effectively.
If you are interested in any of our comprehensive services, please contact us for friendly, professional advice on all your landlord inspection, boiler, heating and plumbing requirements. We offer free, non obligatory quotes and estimates.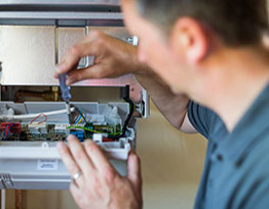 "Very well presented and knowledgeable. I was thoroughly delighted with the work done, very good service."
Frank Connar