Boiler Service, Repair and Maintenance in Edinburgh
We are a Gas Safe Register approved contractor. We can help you with a range of central heating issues, such as faulty cylinders, broken gas fires, boilers not firing up and cold radiators.
We offer the following services:
Advanced Heating Controls
Power flushing
Central heating maintenance
Central heating upgrades
Radiator replacement
Radiator installation
Unvented hot water cylinders systems
Hot water cylinders
Is my gas supply working?
Check other gas appliances such as cookers or fires to make sure you actually have a flow of gas into your home. If you have no gas at all you should call your supplier.
Is my boiler pressure correct?
A typical operating pressure range for modern boilers is 1.0-1.5 bar. It depends on the model but if your boiler is much below this you may have to refill and/or restart it. Check manufacturers instructions and warning lights on your boiler.
Is the pilot light lit?
Your boiler's pilot light can go out for a variety of reasons, many of them not serious enough to warrant calling out a tradesmen. If your pilot light is unlit try starting it yourself (instructions are usually on the inside door of the boiler).
If you've been through that boiler repair checklist and you're still having problems you may need to call in a professional. See our page on emergency boiler repairs if you need help right away.
Only use a Gas Safe Registered Engineer to fit, fix and service your gas appliances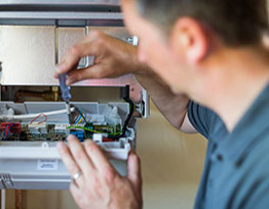 "Very well presented and knowledgeable. I was thoroughly delighted with the work done, very good service."
Frank Connar